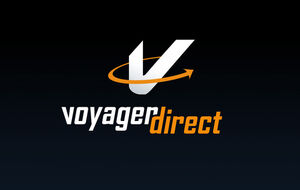 Voyager Direct was a online storefront launched August 31, 2013, two days after the first Hangar Release. It was used for purchases of in game items using United Earth Credits. The storefront was closed with Alpha 3.2.
History
[
]
Welcome to Voyager Direct, the UEE's premier commerce platform. Our goal is simple: to bring the finest products from the most trusted names in the Empire for the best prices.
Founded by Cary Lindle in 2898, Voyager Direct began with a realization. Lindle's was just a simple hauler. His travels throughout the UEE made him appreciate the diversity of products offered by the multitude of stores in the various planets and systems but he immediately recognized a severe lack of overlap and opportunity for sales potential by bringing the wares of a shop in Croshaw to the public in Terra. Lindle began to work with these various outlets to create a system of platform sales via the Spectrum to order and deliver products anywhere in the UEE.
It was from these humble beginnings that the Voyager Direct system grew. While everything on our shelves can easily be found within the UEE, you would be hard-pressed to find a simpler or more cohesive method of shopping for your home, your ship, or yourself.
Assortment
[
]
Decorations
[
]
Decorations
| Image | Name | Description | Price (UEC) |
| --- | --- | --- | --- |
| | Cot | Catch a few Z's between flights with this stylish Star Citizen cot! | 2,000 |
| | The Lamp | Get your own Lamp from the original 24 hour livestream! | 2,000 |
| | RSI Zeus Model | Commemorate the legendary flight of the RSI Zeus with this superbly detailed scale model. A must have for any serious collection. | 5,000 |
| | Workbench | This work bench is the standard across UEE space. Get yours today and never borrow your neighbor's tools again! | 10,000 |
Posters
| Image | Name | Description | Price (UEC) |
| --- | --- | --- | --- |
| | 350R Poster | Display your racing spirit by hanging this Origin Jumpworks 350r poster on your wall! | 1,000 |
| | "Be A Hero" Poster | Be a hero with this iconic poster, perfect for hanging on the wall of your hangar! | 1,000 |
| | "We Want You" Poster | Hang this dynamic recruiting poster from the UEEN on your wall and show your support for the United Earth Empire Navy! | 1,000 |
| | Cutlass Poster | The flagship of the pirate community, the Drake Cutlass, and the iconic Vanduul raider, the Scythe, circle each other on a silent battlefield of tumbling rock. | 1,000 |
| | Freelancer Poster | Got the itch to live a life of freedom among the stars? This MISC Freelancer poster will showcase your adventurous spirit! | 1,000 |
| | Gladiator Poster | Support the war effort against the Vanduul with this classic Anvil Gladiator image. | 5,000 |
| | Hornet Poster | The F7A Hornet is one of the most iconic space superiority fighters ever developed. Celebrate its heritage with this fantastic poster! | 1,000 |
| | Koln Poster | Commemorate Gamescom 2945 in Koln by hanging this poster up in your hangar! | 1,000 |
| | Murray Cup Poster | Show your support for the 'Verse's Premier racing league by hanging this poster up in your hangar! | 1,000 |
| | Retaliator Poster | Show your support for the UEE's premier long-range bomber with this iconic Retaliator poster. | 1,000 |
| | RSI Constellation Poster | Display the poster for this engineering marvel up on your wall! | 1,000 |
Fishtank
Image
Name
Description
Price (UEC)
Fishtank Mark I
This beautifully decorated tank comes from the Ten Thousand Seas Corporation. Stock it with exotic fish from across the verse to build a collection that will be the envy of all your friends.


The Fishtank Mark I comes with a Menarik fish. The Menarik, originating from Ealus in the Xi'An Empire, is a vibrant kingfish that's capable of adapting to many types of environments. It was 'presented' to Humanity by the Xi'An from their preserves in the Ealus System.||5,000

Menarik Fish
1,000
Oshi
A smaller cousin of a deep-sea bioluminescent species, the Oshi have only recently adapted to the lighter pressure closer to the surface of the vast oceans.
1,000
Ribbon fish (Vario Vittas)
Ribbon fish have become a very popular first pet among children due to the minimal amount of care needed to keep them alive and the vibrant variety of their coloration.
1,000
Thorshu Grey
Considered to be quite a delicacy in many restaurants due to the tender meat, the Thorshu can be found in the colder climates of southern Terra. Also was the basis of Waka Grey, the sidekick from a 27th century children's show.
1,000
Vindel
Generally found in shallow water, this species of fish feeds on waste and algae that collects at the bottom of rivers. The tentacles on the head allow the fish to dig through the loose rock and soil. Not generally edible. They taste pretty terrible.
1,000
Buggies
| Image | Name | Description | Price (UEC) |
| --- | --- | --- | --- |
| | Greycat PTV | Got a massive hangar? The Greycat PTV allows you to get from one end to the other without needing to stop for lunch on the way. | 15,000 |
Buggie skins
| Image | Name | Description | Price (UEC) |
| --- | --- | --- | --- |
| | Agate Gray | One of the most popular paint styles on the Greycat, Agate Gray is a two-toned paint skin that brings the buggy's interior colors as accents on the exterior, unifying the Greycat into a single cohesive aesthetic. | 5,000 |
| | All Terrain Camouflage: Forrest | ATC-F is a non-reflective paint surface ideal for anyone looking to lower their profile in the wild. Perfect for military, sporting enthusiasts or naturalists. | 5,000 |
| | Cherry | Speed isn't just about mechanics, it's about perception. Your Greycat will look and feel faster without changing a thing. The Cherry topcoat system uses cutting-edge raw materials and composition coating technology to maintain its glossy finish. | 5,000 |
| | Gunmetal | Who says a buggy can't be elegant? The Gunmetal paint system is a medium gloss, two-component technology that maximizes gloss retention and durability. | 5,000 |
| | Rifle Green | Rifle Green is a premium two-component technology designed to endure harsher environments without fading or scratching. | 5,000 |
| | Tactical Stealth | The Tactical Stealth is a near zero gloss paint that incorporates a catalyzed urethane process for unsurpassed durability making it highly resistant to UV rays, chemicals and chips. | 5,000 |
Weapons
[
]
Ship Guns
| Image | Name | Description | Price (UEC) |
| --- | --- | --- | --- |
| | 9-Series Longsword | The entry level weapon of the Sword-series, the Longsword fires a caseless 25mm round designed for use against a variety of armored targets. | 6,000 |
| | 11-Series Broadsword | The 11-Series Broadsword is the cannon pilots come to when they want the 3 D's: distance, dependability and damage. Packing a 35mm round, the Broadsword also features Mix-Feed Selections, allowing the pilot to switch between their various magazines while in combat. | 12,000 |
| | C-788 "Combine" Ballistic Cannon | Hurtling high caliber rounds with devastating velocity, Behring's C-788 Ballistic Cannon was built to punch through ship armor. Extremely durable with exceptional heat resistance, the "Combine" can handle a heavy workload that, even with the weapon's slower rate of fire, makes it an ideal choice for taking on larger, less maneuverable targets at a short range. (Helping to highlight the cannon's strengths, Behring currently offers the C-788 standard with explosive rounds.) | 18,000 |
| | CF-117 Bulldog Repeater | Featuring a three-barrel sequential fire design, the Klaus & Werner CF-007 Bulldog repeater is capable of high rates of fire while maintaining accuracy. It has low damage per projectile and, although it has relatively low power consumption over-all, several publications have commented on its somewhat lackluster efficiency. Even so, the CF-007 remains a favorite among new pilots who are outfitting their first ship. | 8,000 |
| | CF-227 Badger Repeater | The CF-227 Badger repeater is Klaus & Werner's dependable second-tier repeating laser. Its increased output (and corresponding power consumption) make it a solid contender in any fight. Power efficiency continues to be a problem with the K&W models, however. | 12,000 |
| | CF-337 Panther Repeater | The CF-337 Panther is the size three model in Klaus & Werner's laser repeater line. The Panther is a true fire-and-forget weapon with a respectable power consumption-to-damage ratio. Pilots who outfit their ships with Panthers rarely regret the decision. | 7,200 |
| | Mantis GT-220 | The Mantis GT-220 is a hydraulically-driven Gatling-type rotary cannon designed to deliver smaller rounds at a very high rate of fire. The Mantis is designed to shred armor on very fast targets, sacrificing power for absolute saturation of the target area. | 16,000 |
| | M3A Laser Cannon | The M3A is Behring's entry level laser cannon. The cannon configuration offers modest damage per projectile and a fairly low rate of fire. As the most basic offering in Behring's weapons lineup, it features low power consumption, but poor power efficiency. It makes up ground for its shortcomings by being cheap, a feature many pilots are looking for when outfitting their ships on a budget. | 4,000 |
| | M4A Laser Cannon | The M4A is Behring's second tier laser cannon. Its bigger size means more power consumption in exchange for packing a bigger punch. Fire rate and power efficiency are comparable to the M3A model. | 8,000 |
| | NN-13 Neutron Gun | MaxOx's NN-13 Neutron Gun offers a massive energy payload at the expense of speed and energy efficiency. One could argue the virtues of speed, rate of fire and distance over damage, but the argument becomes irrelevant if you only need to hit them once. | 8,000 |
| | MaxOx NN-14 Neutron Cannon | Building on the technology of the NN-13, MaxOx's NN-14 offers a significant increase in power for the neutron cannon to give each shot a devastating punch. With that increased damage however, comes a heavier draw on your power plant. | 16,000 |
| | Omnisky III | The Omnisky III is the base model in A&R's line of laser cannons for small ships and has a comparable rate of fire, damage output and range to other weapons in its size class. It uses mid-grade components in its design, offering a marked increase in power efficiency over some of its less expensive competitors. | 12,000 |
| | Omnisky VI | The Omnisky VI is the mid-sized laser cannon from manufacturer A&R. It boasts increased damage and range and power consumption over its smaller brother, the Omnisky III, and utilizes many of the same components resulting in middle-of-the-road power efficiency. | 16,000 |
| | Revenant | If it ain't broke, don't fix it. And if you want it broke, aim a Revenant at it. Solidly built on a foundation of centuries-old tech, Apocalypse Arms puts an innovative spin on battle-tested designs to create a rugged ballistic Gatling that can steadily hurtle death across the void. Though it's slow to spin up and cool down, the Revenant's dependability makes it a favorite for those expecting to find trouble. | 18,000 |
| 100px | Sledge II Mass Driver Cannon | The Klaus and Werner Sledge II Mass Driver Cannon is a 60mm hard-ammo ballistic weapon capable of firing multiple types of ammunition. This weapon's increased shield penetration capabilities comes at a cost, however; magazine space is limited, and ammunition must be replenished regularly. Because it does not use energy-based projectiles, the K&W mass driver has a reduced power cost and therefore results in a reduced EM signature. | 8,000 |
| | Strife Mass Drive | It always pays to be prepared, and if misfortune ever does strike, you're going to be glad you have an Apocalypse Arms Strife Mass Driver handy. Its electromagnetic accelerators may be a little power hungry, but it makes up for it with how rapidly it can fire its extremely powerful high velocity projectiles. With the Strife's commendable accuracy over long distances, watching it tear through your target is enough to make any bad day a little bit better. Just be careful not to let it overheat. | 10,000 |
| 100px | SW16BR2 "Sawbuck" | The SW16BR2 Sawbuck is Behring's contribution to the expanding Ballistic Repeater market. Its sequential-firing tri-barrel configuration offers an effective middle-ground for operator's looking for a higher rate of fire than a cannon, but without the fear of overheating that you would get with a gatling. | 10,000 |
| 100px | Tarantula GT-870 | Fed by Gallenson Tactical's patented SpinGlide drum ammunition system, the Tarantula GT-870 can smoothly and accurately deliver a variety of medium caliber ballistic shells. Though it only has moderate rate of fire, its trustworthy durability makes it a dependable addition to any fight. (Please note: this is not a Gatling cannon.) | 9,000 |
| 100px | Tarantula GT-870 MK3 | Fed by Gallenson Tactical's patented SpinGlide drum ammunition system, the Tarantula GT-870 Mk3 is the Size 3 version of the previously released Mk2. It can smoothly and accurately deliver a variety of medium caliber ballistic shells. Though it only has moderate rate of fire, its trustworthy durability makes it a dependable addition to any fight. (Please note: this is not a Gatling cannon.) | 11,000 |
Weapon Mounts
Image
Name
Description
Price (UEC)

Cutlass Flashfire Specialty Mount

Want some bigger bang for your credit… literally? Flashfire Systems is proud to offer a new selection of 'special mission' VariPuck weapon mounts designed to provide additional handling capacity on specifically designated single-seater spacecraft. These carefully designed mounts will transform larger hardpoints on the Hornet and Cutlass-class platforms to allow them to attach large weaponry now available through Voyager Direct.


Use this Cutlass Flashfire Specialty Mount to turn the S6 turret mount on any Cutlass-class ship into an S4 gimbal gun slot, allowing pilots to mount the Behring S4 Combine Ballistic Cannon with explosive rounds (originally intended for use aboard the Retaliator bomber!)||8,000

Flashfire VariPuck S2 Gimbal Mount
Need more flexibility in your weapon coverage? Tired of having to maneuver a 20,000kg ship to adjust for a few inches of accuracy? Let Flashfire Systems' new VariPuck weapon mount system give you those extra degrees of precision. Available in a variety of sizes, the VariPuck fits between your weapon and the ship hardpoint to transform a fixed weapon mount into a gimballed mount, allow the pilot to independently aim their weapon's fire without having to adjust their flight path or commit to a full-size turret. VariPucks will accept any weapon one Size smaller than the hardpoint it is mounting to.


Use this Flashfire Gimbal Mount to turn a fixed Size 2 hardpoint into a Size 1 gimbal mount.||5,000

Flashfire VariPuck S3 Gimbal Mount
Need more flexibility in your weapon coverage? Tired of having to maneuver a 20,000kg ship to adjust for a few inches of accuracy? Let Flashfire Systems' new VariPuck weapon mount system give you those extra degrees of precision. Available in a variety of sizes, the VariPuck fits between your weapon and the ship hardpoint to transform a fixed weapon mount into a gimballed mount, allow the pilot to independently aim their weapon's fire without having to adjust their flight path or commit to a full-size turret. VariPucks will accept any weapon one Size smaller than the hardpoint it is mounting to.


Use this Flashfire Gimbal Mount to turn a fixed Size 3 hardpoint into a Size 2 gimbal mount.||7,000

N4-160f Turret
Every combat pilot knows that the difference between a miss and a hit can be a couple of degrees. Broad & Rabiee's N4-160f turret system is designed to put those degrees of precision in your hands by allowing canard mounted Size 1 weapons to accurately and effectively track mobile targets without changing the path of your ship.
20,000
Hornet Flashfire Specialty Mount
Want some bigger bang for your credit… literally? Flashfire Systems is proud to offer a new selection of 'special mission' VariPuck weapon mounts designed to provide additional handling capacity on specifically designated single-seater spacecraft. These carefully designed mounts will transform larger hardpoints on the Hornet and Cutlass-class platforms to allow them to attach large weaponry now available through Voyager Direct.
8,000
Missiles
| Image | Name | Description | Price (UEC) |
| --- | --- | --- | --- |
| | Dominator II | With the Dominator II, Talon have produced another reliable and military-approved missile that provides more proof that a long engineering history breeds a quality lineage in the munitions world. While designed to track an opponent's Electromagnetic signature, the Dominator II also needs a target lock before firing – making it more likely to hit but no easy task to fire. | 16,000 |
| | Ignite II | The Ignite II is a Firestorm brand of heat seeking missile that requires no full target lock. Quick to fire but easy to evade – simply flip the ignition and let fly. Then sit back and hope as it attempts to track down your opponent's IR signature. Enjoy the show. | 15,000 |
| 100px | Marksman I | With the addition of Behring's signature thermo-guidance system, the Marksman I has earned a reputation for its ability to track all but the lowest signatures. | 10,000 |
| | Pioneer I | | 8,000 |
| | Rattler II | The Rattler II is a cost-effective albeit unreliable cluster missile that will no doubt appeal to the reckless and shrewd alike. The Rattler requires a target lock and, when fired, will track the opponent's IR signature. Cluster missiles first deploy from the tip to create an opening barrage that drops the armour or shields, leaving the target vulnerable to the full payload that hopefully follows. A bold but unpredictable statement of intent. | 18,000 |
| | Spark I | Those that believe size doesn't matter would do well to stay clear of the Firestorm Spark I. The unrivalled explosive power however is rather predictably offset by the handicap of having no lock on to guide it; the Spark is a proximity detonating 'dumbfire' missile that relies heavily on the attacker's timing and steady nerves. A careful shot is always rewarded though – tenfold. | 6,000 |
| | StrikeForce II | As Thermyte Concern's reputation ignites within the missile industry, they continue to improve their own extensive knowledge of explosives. Implementing a more powerful warhead the StrikeForce II is the outcome. Trading speed for a higher payload improving on its predecessors. Just fire away and let it hunt its own target. | 15,000 |
| | TaskForce I | Venturing into the weapons market, Thermyte Concern have pooled together their knowledge and dominance of explosives to create the TaskForce I. A lightweight missile that may be lacking in power compared to others, but more than makes up for it with its propulsion system. Once locked, it uses an efficient mixture of speed and firepower to assault its target. | 10,000 |
| 100px | Tempest II | The Tempest II was designed with nothing but annihilation in mind. Using FireStorm Kinetic's aging technology means they are reliable and efficient. Although slow once locked on it devastates anything that happens to become its target. It makes its point blunt and effective. | 14,000 |
Missile Racks
| Image | Name | Description | Price (UEC) |
| --- | --- | --- | --- |
| 100px | Behring MSD-111 "Marsden" Missile Rack | | 1,000 |
| 100px | Behring MSD-212 "Marsden" Missile Rack | | 2,000 |
| 100px | Behring MSD-221 "Marsden" Missile Rack | | 2,000 |
| 100px | Behring MSD-313 "Marsden" Missile Rack | | 3,000 |
| 100px | Behring MSD-322 "Marsden" Missile Rack | | 4,000 |
| 100px | Behring MSD-341 "Marsden" Missile Rack | | 4,000 |
| 100px | Behring MSD-414 "Marsden" Missile Rack | | 4,000 |
| 100px | Behring MSD-515 "Marsden" Missile Rack | | 5,000 |
| 100px | Behring MSD-423 "Marsden" Missile Rack | | 6,000 |
| 100px | Behring MSD-616 "Marsden" Missile Rack | | 6,000 |
| 100px | Behring MSD-442 "Marsden" Missile Rack | | 8,000 |
| | Quad Rack | Built to Talon's standard of rugged excellence, this Quad Rack fits to any compatible hardpoint to carry four missiles. | 8,000 |
| | Quad Platform | Behring's Quad Platform is a complete four-round missile system that can be mounted on any compatible hardpoint for reliable and effective weapon launch. | 8,000 |
| | Twin Rack | Built to Talon's standard of rugged excellence, this Double Rack fits to any compatible hardpoint to carry two missiles. | 6,000 |
Character Weapons
| Image | Name | Description | Price (UEC) |
| --- | --- | --- | --- |
| | LH-86 Combustion Handgun | The LH-86 from Gemini is a compact kinetic handgun designed for personal defense and close-quarter combat. A keen eye on ergonomics and balance coupled with hardy construction makes this pistol a natural fit for any shooter in any number of hostile conditions. The LH-86 also comes with Tritium low-light sight and a thirteen round magazine. | 10,000 |
Coolers
[
]
| Image | Name | Description | Price (UEC) |
| --- | --- | --- | --- |
| | Endo | A cooler for discerning ship-owners who are looking to push their craft further, Wen/Cassel's Endo features above average cooling performance and thoughtful design. | 7,000 |
| | Cryo-Star | J-Span's consumer-grade Cryo-Star cooler has become a common sight across the Empire thanks to its reliable heat absorption that won't strain your ship's power-plant. | 8,000 |
Power Plants
[
]
| Image | Name | Description | Price (UEC) |
| --- | --- | --- | --- |
| | Regulus | The Regulus is the power plant you can count on when everyone is counting on you. Made to exceed exacting military standards, Aegis' design team has made sure that you have the extra power you need, when you need it most. | 17,000 |
| | Overdrive | Amon & Reese knows from years of experience just how hard the military can push their ships. Their OverDrive power plant was designed from the ground up to not only handle those tough conditions with less overheating, but to provide the same dependability and power to civilians as well. | 16,000 |
Shields
[
]
SEAL INK-Mark
| Image | Name | Description | Price (UEC) |
| --- | --- | --- | --- |
| | INK-Mark 104-ID | By bolstering the direct fire absorption of their all-purpose shield generator line, Seal Corporation's INK-Mark generator sacrifices some resistance to splash damage to allow a ship to better weather a focused attack. | 8,000 |
| | INK-Mark 204-ID | By bolstering the direct fire absorption of their all-purpose shield generator line, Seal Corporation's INK-Mark generator sacrifices some resistance to splash damage to allow a ship to better weather a focused attack. | 10,000 |
| | INK-Mark 304-ID | By bolstering the direct fire absorption of their all-purpose shield generator line, Seal Corporation's INK-Mark generator sacrifices some resistance to splash damage to allow a ship to better weather a focused attack. | 12,000 |
| | INK-Mark 404-ID | By bolstering the direct fire absorption of their all-purpose shield generator line, Seal Corporation's INK-Mark generator sacrifices some resistance to splash damage to allow a ship to better weather a focused attack. | 15,000 |
SEAL INK-Splash
| Image | Name | Description | Price (UEC) |
| --- | --- | --- | --- |
| | INK-Splash 104-IS | By focusing on improving the splash damage absorption of their all-purpose shield generator line, Seal Corporation's INK-Splash generator exchanges some protection from direct fire for extra strength against missiles. | 8,000 |
| | INK-Splash 204-IS | By focusing on improving the splash damage absorption of their all-purpose shield generator line, Seal Corporation's INK-Splash generator exchanges some protection from direct fire for extra strength against missiles. | 10,000 |
| | INK-Splash 304-IS | By focusing on improving the splash damage absorption of their all-purpose shield generator line, Seal Corporation's INK-Splash generator exchanges some protection from direct fire for extra strength against missiles. | 12,000 |
| | INK-Splash 404-IS | By focusing on improving the splash damage absorption of their all-purpose shield generator line, Seal Corporation's INK-Splash generator exchanges some protection from direct fire for extra strength against missiles. | 15,000 |
References
[
]