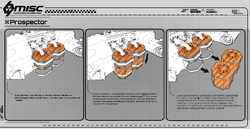 Spaceships and ground vehicles in Star Citizen can be equipped with a variety of different types of components such as power plants and shield generators. Each component is classified by SIZE and GRADE and CLASS, ship weapons are classified by size only. The size determines on which ships and vehicles a component can be installed, CLASS and GRADE indicate how well it works. Each component hardpoint is limited to one component type, meaning it is not possible to install a power plant on a hardpoint dedicated to a shield generator.
Avionics
[
]
Avionics is the on-board electronics allowing to control the elements of the ship and to collect their state.
Propulsion systems
[
]
The propulsion systems include all the elements which take part in the propulsion of the ship apart from the thrusters themselves.
Thrusters
[
]
The thrusters allow the ship to evolve in its environment. A spacecraft has a very large quantity of them, in order to perform maneuvers in space and in the atmosphere of a planet, in all situations.
Systems
[
]
Systems have a direct impact on the functioning of the ship. They protect it, regulate it, and provide it with energy.
Hardpoint matrix
[
]
Ship components are defined by three major criteria: Size and Grade and Class.
Classification
Rating
Description
Note
Size
0 or V
Used only by ground vehicles.
A 0 to 4 rating that determines on which ship or vehicle a component can be installed, only components of matching size can be installed.
1 or S
Used by snub ships and small sized ships.
2 or M
Used predominantly by medium sized ships
3 or L
Used predominantly by large sized ships.
4 or C
Used predominantly by capital sized ships.
Grade
A or 1
Best performing, can have additional item slot (Sub Items).
B or 2
Good performance, can have additional item slot (Sub Items).
C or 3
Standard for most ships, average performance.
D or 4
Low quality, used by NPC.
Class
Military
Highest functionality and most expensive but also highest consumption.
Civilian
General use with no major drawbacks.
Stealth
Reduced consumption and signature but also reduced functionality.
Industrial
Reliably high output and low wear, high emissions.
Competition
Higher performing than military but at the expense of durability and stealth, focus on performance.
See also
[
]
References
[
]