Ship weapons allow you to defend yourself and fight back when necessary, or simply attack a target in the galaxy, armament is the cornerstone of ship components. Pilots have a wide variety of weapons, each suited to a defined mission. From traditional ballistic cannons to neutron cannons and immense anti-capital ship torpedoes, Star Citizen spacecraft have impressive firepower at their disposal.

They are defined by three major criteria: Item type, Size and Grade.

For an complete list of ship armaments and components, see:
List of ship equipment
.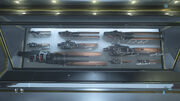 The size specifies the outer dimensions of a weapon, ships weapon hardpoints have a maximum size that sets a limit to what weapon can be installed.
Missile racks have a three digit designation, the first digit stands for the missile rack size, the second stands for the quantity of missiles that can be attached to it and the last for the missile size. Missile launchers can only have missiles sizes attached to it as specified it its designation.
Gimbal mounts share the same shape, but the maximum size weapon that can be installed depends on the size of the mount.
Currently all ship weapons are assigned grade 1.
Community content is available under
CC-BY-SA
unless otherwise noted.