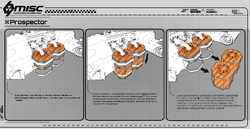 Typically, ships have attachment points to attach components, weapons, missiles, and accessories. These items can be purchased new from many ship manufacturers or specialty builders; or second hand at waste pickers.
Avionics
[
]
Avionics is the on-board electronics allowing to control the elements of the ship and to collect their state.
Propulsion systems
[
]
The propulsion systems include all the elements which take part in the propulsion of the ship apart from the thrusters themselves.
Thrusters
[
]
The thrusters allow the ship to evolve in its environment. A spacecraft has a very large quantity of them, in order to perform maneuvers in space and in the atmosphere of a planet, in all situations.
Systems
[
]
Systems have a direct impact on the functioning of the ship. They protect it, regulate it, and provide it with energy.
Hardpoint matrix
[
]
Ship components are defined by three major criteria: Size and Grade and Class.
Types
Description
Size
The size is a classification assigned to every component slot of a ship, only components of matching sizes can be installed
Grade

A: Best performing, can have additional item slot (Sub Items).
B: Good performance, can have additional item slot (Sub Items).
C: Standard for most ships, average performance.
D: Low quality, used by NPC.

Class

Military: Highest functionality and most expensive but also highest consumption.
Civilian: General use with no major drawbacks.
Stealth: Reduced consumption and signature but also reduced functionality.
Industrial: Reliably high output and low wear, high emissions.
Competition: Higher performing than military but at the expense of durability and stealth, focus on performance.
Weaponry
[
]

{{{text}}}
See also
[
]
References
[
]