GENERAL PRESENTATION
Land vehicles in the Star Citizen universe fulfill a multitude of roles on planetary surfaces. These roles include reconnaissance, interception, racing and/or assault/defense. Some space ships like the Dragonfly Black or the Nox use grav-level technology to move from the ground into zero-g space in order to travel on planets, moons, cities or even inside large capital ships.
Vehicles
Star Citizen vehicles allow players to move quickly around the city, in a ship, or on the surface of a planet. For more information, see the pages below:
Spot on...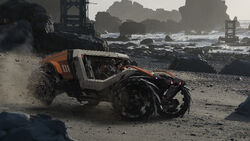 The Cyclone-RN is a light reconnaissance vehicle ideal for exploration missions. The Cyclone-RN is equipped with improved scanners and beacons that can be picked up by other vehicles or Ships in the area.
Vehicles series
Ballista editions

Cyclone variants

Ursa Rover editions

X1 variants