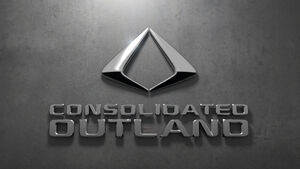 Founded by maverick trillionaire Silas Koerner, Consolidated Outland is an up-and-coming spacecraft concern, the first ever headquartered on a frontier world. Koerner, who made his sizable fortune in jump-communications, founded the company as an attempt to strike back at what he sees as the overly-regulated spacecraft industry. With facilities established as far from possible from the prying eyes of competing corporations, Outland is quickly becoming one to watch.
After finding initial success with spacecraft conversion kits, Outland is now ready to run with the big boys: the new Mustang spacecraft line is preparing to go into mass production is priced to compete with Roberts Space Industries' Aurora. Using newly-developed construction techniques and ultralight material alloys sometimes considered unsafe, the Mustang pushes power ratios to the limit. The result is a sleek, stylish spacecraft that weighs less than the Aurora and has more options for engines and thrusters… at the expense of some stability, weapons hardpoints and cargo capacity.[1]
Appearances in Lore
As of September 2944, Consolidated Outland was enjoined in a legal battle with Omega Corporation for purported trademark infringement.[2]
Outland Products
Ships
References
Community content is available under
CC-BY-SA
unless otherwise noted.