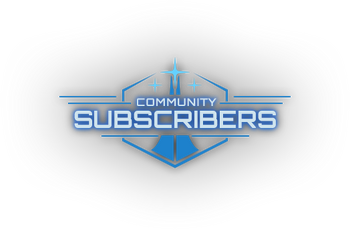 Community Subscribers is a monthly subscriptions service created during the Crowdfunding campaign that offers additional in-game items called Subscriber Flairs, the monthly digital magazine Jump Point or discounts on Star Citizen merchandise.[1][2] Subscribers also have access to the Vault, a digital archive with conceptual images which is regularly updated.
There are currently two subscription tiers - Centurion ($10/month or $110/year) and Imperator ($20/month or $220/year).[3]
This subscription program is used to finance and produce shows such as 10 For The Chairman, Around The Verse, Bugsmashers, Wingman's Hangar, Inside Star Citizen or Star Citizen Live.
Jump Point. A 40+ page monthly newsletter which includes updates from the team, in-universe fiction serials and behind-the-screens information about Star Citizen's development. All previous issues can be accessed at any time.[4]
Subscriber flair. Subscribers receive an exclusive digital hangar flair item every month; ranging from collectible spacecraft models to interactive lockers. This flair is awarded on the second Friday of every month and past flair can be purchased from the subscriber store.
VIP event flair. An exclusive variant flair item for every CIG-ticketed event, including Gamescom, CitizenCon and more. In order to receive this perk, you must be an active subscriber at the time of the event.
Access to "The Vault," a collection of Star Citizen artwork that would otherwise never be seen, including 'paths not taken' discarded concept art for the true collector.
Early access to purchase event tickets.
Access to the Subscriber's Den forum and the subscriber-only chatroom.
Exclusive access to submit questions for Chris Roberts' weekly "10 for the Chairman" sessions via the Subscriber's Den.
Subscribers version of "Reverse the Verse" where only subscribers can submit questions.
"TEST PILOT" access – a monthly allotment of 20,000 Rental Equipment Credits (REC). Test Pilot REC may be used for ships or weapons, or even saved for the future. REC can be used in Arena Commander AND Star Marine.
Physical merchandise discounts.
After 12 months of Centurion time:
Your name in the game. If you subscribe for at least twelve months your name will be located somewhere in the Star Citizen world.
Centurion Year 4 ship decal (Not available yet, but will be awarded upon release to those eligible).
10% off coupon. A single use coupon for the pledge store which gives 10% off (maximum $50 off) of one purchase.
All of the Centurion Perks (see above).
An extra copy of the monthly subscriber flair, for two copies total. The second copy can be gifted to a friend.
"Vanduul Test Pilot Badge." Access to fly the Vanduul Scythe. Each month of subscription time will give you an additional 24 hours of access to the Scythe. This is not currently available, but will be awarded retroactively once it is available.
"ADVANCED TEST PILOT" access – a monthly allotment of 40,000 Rental Equipment Credits (REC).
After 12 months of Imperator time:
All 12 month Centurion perks (see above).
20% off coupon. A single use coupon for the pledge store which gives 20% off (maximum $100 off) of one purchase.
Imperator Year 4 decal (Not available yet, but will be awarded upon release to those eligible).
Create a pirate. You will have the right to name one NPC in Spider and create their backstory for the official Galactapedia. (CIG reserves the right to edit any content created as part of this perk.)
Each year subscriber perks change. The following perks are no longer available, but were awarded at some point in the past.
Jump Point: Year One, a printed collection of Jump Point issues provided to anyone who subscribed for the entire first year of development.
Imperator's name on the Wall-of-honor at Cloud Imperium HQ if he or she subscribes for at least 12 months.
The ability to visit Cloud Imperium offices in Austin or Los Angeles once (scheduled in advance) and see how the game is made.
Year 1 and Year 2[5] Centurion and Imperator ship decals.
Subscriber flair are in-game hangar decorations distributed to subscribers on the second Friday of every month. All past subscriber flair can be purchased in a subscriber-only section of the pledge store for $5 each.[6] Some flair is purely decorative, but other pieces can be interacted with, like the jukebox which can play music from the user's computer.
2018 saw the addition of a additional flair item for Imperator subscribers.
The Ship of the month was added in 2019 as a perk for active subscribers.
Community content is available under
CC-BY-SA
unless otherwise noted.