The Apollo is a announced large-sized medical support ship made by Roberts Space Industries, it comes in in a military and a civilian variant. The medical facility on board has several hospital beds that can be selected as Tier 1 to 3.
Variants
[
]
Apollo Medivac
[
]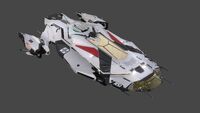 The Apollo Medivac is the militarized variant, it features a additional size 3 missile rack hardpoint.
Apollo Triage
[
]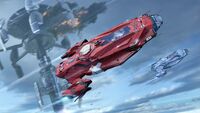 The Apollo Triage is a civilian medical transport.
Comparision table
[
]
Apollo Medivac
Apollo Triage
Length
43.0 m
43.0 m
Beam
30.0 m
30.0 m
Heigth
10.0 m
10.0 m
Weigth
376,500 kg
376,500 kg
Role
Support - Medical
Support - Medical
Cargo
28 SCU
28 SCU
Avionics
Qty x Model
Size
Qty x Model
Size
Radars
1x
1x
Computers
2x
2x
Power Plants
1x
1x
Coolers
2x
2x
Shield Generators
2x
2x
Propulsion and thrusters
Qty x Model
Size
Qty x Model
Size
Fuel Intake
2x
2x
Fuel Tanks
2x
2x
Quantum Drives
1x
1x
Jump Modules
1x
1x
Quantum Fuel Tanks
1x
1x
Main Thrusters
2x Main Thruster
2x Retro Thruster
4x VTOL Thruster
2x Main Thruster
2x Retro Thruster
4x VTOL Thruster
Maneuvering Thrusters
12x Fixed Maneuvering Thruster
12x Fixed Maneuvering Thruster
Armaments and equipment
Qty x Model
Size
Qty x Model
Size
Weapons
None
None
Turrets
1x2

 S 

 2
1x2

 S 

 2
Missiles
4x

 S 

 2
None
Utility
None
None
Paints
[
]
Gallery
[
]
Images
[
]
Videos
[
]
See also
[
]
References
[
]
Roberts Space Industries (RSI)
Ships
Ground Vehicles
Ship Components
Ship Weapons
Hand weapons
Hand weapon attachments
Personal Items
Armor

Helmets
Torsos
Arms
Legs
Backpacks
Undersuits

Clothing